Silicon Power Introduces the Superior Pro and Elite Series SDXC and microSDXC
Sometimes bigger is better, especially when it comes to storage space. That is why SP/ Silicon Power, a leading provider of memory storage solutions, has added higher capacity memory cards with up to 256GB to its Superior Pro SDHC/SDXC UHS-I (U3) and Elite microSDHC/microSDXC UHS-I series. The latter one is for the mobile photo and video "junkies" among us. With 256GB extra storage, it's the perfect companion for Android smartphones and tablets, as it keeps them well equipped for storage devouring high-quality photo shooting or video recording on the go.
The Superior Pro SDXC UHS-I (U3) is indispensable for high-performance video and photography use and its 256GB capacity caters for the particularly high demand in storage space for 4K high-resolution Ultra HD video recording. UHS Speed Class 3 (U3) ensures smooth performance for the capture of excellent image quality.
SP Superior Pro SDHC/SDXC UHS-I (U3) Product Features:
Fully supports 4K*2K high flow capacity video recording
Captures high-quality images and extended length of stunning 1080p full-HD and 4K UHD (Ultra High Definition) videos
Compatible with any SD UHS-I compatible DSLR camera, HD camcorder, 3D camera
Supports UHS Speed Class 3 (U3) specification
SDXC/SDHC read/write speeds up to 90/80 MB/s
Records up to 720 minutes of 4K/15 FPS videos with 256GB
Free download of SP Widget software for data backup & restore, AES 256-bit encryption, and cloud storage
Shockproof, waterproof, and x-ray proof
Equipped with automatic error correction code (ECC) function
SP Superior Pro SDHC/SDXC UHS-I (U3) Product Specifications:
Capacity: SDHC (16/32GB) SDXC (64/128/256GB)
Dimension: 24 x 32 x 2.1mm
Weight: 2g
Performance read (max.): Up to 90MB/s
Performance write (max.): Up to 80MB/s
Durability: 10,000 insertions (minimum)
Operating temperature: 0℃~70℃
Storage temperature: -40°C~85°C
Humidity: 8% to 95%
Operating Voltage: 2.7V~3.6V
Warranty: Lifetime warranty
SP Elite microSDHC/microSDXC UHS-I (U1) Product Features: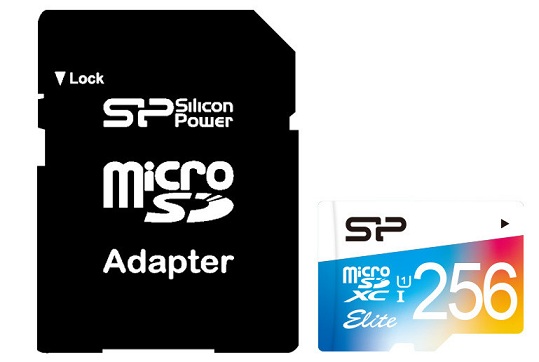 Captures high-quality images and extended lengths of stunning 1080p full-HD video with any microSD UHS-I compatible devices, or tablet
Transfer speeds: Up to 85MB/s reading with 256GB
Class 10 video recording performance
Free download of SP Widget software for data backup & restore, AES 256-bit encryption, and cloud storage
Shockproof, waterproof, and x-ray proof
Equipped with automatic error correction code (ECC) function
SP Elite microSDHC/microSDXC UHS-I (U1) Product Specifications:
Capacity: microSDHC (8/16/32GB) / microSDXC (64/128/256GB)
Dimension: 15 x 11 x 1mm
Weight: 0.6g
Performance read (max.): Up to 85MB/s; 128GB up to 75MB/s
Durability: 10,000 insertions (minimum)
Operating temperature: 0℃~70℃
Storage temperature: -40°C~85°C
Humidity: 8% to 95%
Operating Voltage: 2.7V~3.6V
Warranty: Lifetime warranty